After School Program
Our "After School Program" provides a positive learning environment that gives numerous opportunities for success in the cognitive, psycho-motor and effective domains of learning and ultimately prepares children for life ahead. The program focuses on the age group of 6 to 8 years. Along with academic readiness, a primary school goer needs to learn about life readiness too! Jumpstart's "After School Program" focuses on developing life skills in children. It is a one stop station for all the extracurricular activities along with introduction to a foreign language.
Children will be introduced to a variety of activities conducted by experts to keep them healthy, fit, mindful and curious along with developing the right skills and attitude that yield success. Parents are benefited as this conglomeration of activities is available at one destination saving time, energy, money and effort at our after school program!
Opportunity to explore new interests
The after-school program provides options to children that they don't have inside a school building. Whether a child is interested in yoga, sports, a new language, our after-school program accommodates it all. Children gain confidence as they learn new skills and interact with others from varying backgrounds, which carries over into academia.
Improved social skills
Children left alone after school neglect face-to-face relationships and often spend too much time using technology. Interaction with caring adults at our after-school program offers time to mingle with others, improving social skills in the process. It also influences good choices and positive behaviour in a non-threatening environment along with teaching healthy relationship skills to the children.
Time management techniques
Learning to prioritize activities and manage time accordingly is a great skill for every child to obtain. When children participate in the after-school programs, they're forced to learn how to manage their activities and allow enough time for homework. Balancing extra-curricular demands with everyday school requirements teaches discipline and self-restraint that carries over into adulthood.
An innovative and unique combination at our
After School Program:
Move and Groove:
Active sports, Physical fitness, Dance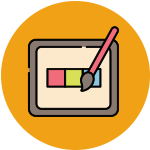 Art Horizon:
Creative activities, Origami,
Art & Craft
Logic & Literacy:
Number fun, Vocabulary enhancement, Speech & Drama, Foreign language, Reading, Handwriting enhancement
Life Readiness:
Life, Safety & First Aid Skills, Etiquettes & grooming, Attitudinal enhancement
Milk & Snacks