Welcome to Jumpstart Nyati County
Jumpstart international preschool and learning center at Nyati county is the biggest Jumpstart center sprawling over an area of 11,000 sq.ft.
It is easily accessible to parents located at NIBM, Mohammedwadi, Corinthian Club, Kondhwa and Undri.
The center is beautifully designed and has a big play area.
The team is highly passionate and motivated to spread goodness to children using experiential learning and the latest technology.
Biggest well spaced play area and
well designed classrooms
Programs
We at Jumpstart International Preschool & Learning Center strive to make the crucial five years of children as enriching as possible.
Our preschools in Aundh, Karve Road, Kalyani Nagar, Bhosale Nagar, Mohammedwadi, Baner, Pashan & Nigdi work towards the holistic growth and development of children.
Preschool
[Regular program, 360° Program, 360° + Program]
Playgroup
Nursery
Jr. Kg.
Sr. Kg.
Learning Centre
Time:
9.00am -7.00pm
Age Group:
6 months to 10 years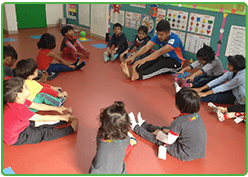 After School Program
Time:
2.00pm -6.00pm
Age Group:
6 years to 8 years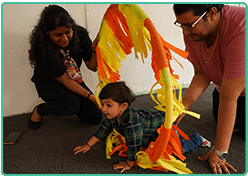 Parent Toddler Program
Time:
11.30am -12.30pm
Age Group:
6 months to 2 years
Goodness Partner
Neha Tathed
At Jumpstart Nyati County :
a. We ensure the holistic development of our children and provide high-quality education
b. Jumpstart's curriculum and programs are designed to develop child's social, emotional, physical, cognitive, aesthetic and oratory skills
c. As children are born curious, we believe in keeping their curiosity intact by providing them hands-on experience through experiential learning.
d. Jumpstart, Nyati County has the largest premises in and around Mohammedwadi, Undri and NIBM as we understand children need space to learn and explore
e. We provide a safe, secure and hygienic environment where children can explore and have the freedom to reach their full potential
f. The skills and knowledge that the child develops here have a great impact on the aptitude and attitude of the child later in life
g. For children, Jumpstart's learning center is a home away from home
h. We have a well-planned curriculum executed by our highly motivated educators
i. We strive towards inculcating life skills, independence and confidence while ensuring that every child's uniqueness is preserved
Jumpstart International
Preschool & Learning center
Nyati Estate Rd,
Opposite Delhi Public School,
Nyati County, Mohammed Wadi,
Pune, Maharashtra 411060
Call: 7410040485
Hours
| | |
| --- | --- |
| Monday | 9am-7pm |
| Tuesday | 9am-7pm |
| Wednesday | 9am-7pm |
| Thursday | 9am-7pm |
| Friday | 9am-7pm |
| Saturday | 9am-7pm |
| Sunday | Closed |