Welcome to Jumpstart Karve Road
Jumpstart international preschool and learning center at Karve road is located in the heart of the city. It is the biggest preschool in the area. It is easily accessible to parents located at Kothrud, Deccan, Shivajinagar, Prabhat road, Sinhagad road and Senapati Bapat road. It is the first center of Jumpstart and has won various accolades for its well-designed infrastructure. The team is highly passionate and motivated to spread goodness to children using experiential learning and the latest technology.
Programs
We at Jumpstart International Preschool & Learning Center strive to make the crucial five years of children as enriching as possible.Our preschools in Aundh, Karve Road, Kalyani Nagar, Bhosale Nagar, Mohammedwadi, Baner, Pashan & Nigdi work towards the holistic growth and development of children.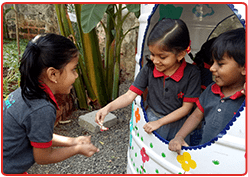 Preschool
[Regular program, 360° Program, 360° + Program]
Playgroup
Nursery
Jr. Kg.
Sr. Kg.
Learning Centre
Time:
9.00am -7.00pm
Age Group:
6 months to 10 years
After School Program
Time:
2.00pm -6.00pm
Age Group:
6 years to 8 years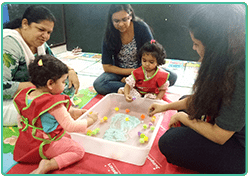 Parent Toddler Program
Time:
11.30am -12.30pm
Age Group:
6 months to 2 years
Center Manager
Chaitali Neurgaonkar
Every year of a child's life is precious, but when it comes to development, the first five are the most important. This is when a child becomes the person they are going to be. It is when they learn appropriate behaviour, boundaries, empathy and many other important social skills that will remain with them for life.
At Jumpstart, we start as early as 6 months with our Learning Centre program and the Parent Toddler program.
Children enter Playgroup class at the age of two. Jumpstart is set apart with the pedagogy of experiential learning which happens twice a week through experiential events. There are more than 60 experiential events conducted in the entire academic year.
At Jumpstart partnering with the parents and use of latest technology is part of our vision. We partner with our parents in the form of volunteering activities wherein they can visit us at school and spend time with our children sharing their expertise with us.
Committee visits like being part of the food, infrastructure and classroom to ensure transparency and most importantly our quarterly face to face meetings wherein the child's work is showcased with photo and video documentation.
A discussion is initiated as to how both the parent and the educator can partner together to help the child evolve in specific areas.
Jumpstart International
Preschool & Learning center
11/7, Matoshri, Kishor B Tapadia Path,
Next to Kalyan Jewellers, Karve road,
Erandwane Pune,
Maharashtra 411004
Call: 9881110011
Hours
| | |
| --- | --- |
| Monday | 9am-7pm |
| Tuesday | 9am-7pm |
| Wednesday | 9am-7pm |
| Thursday | 9am-7pm |
| Friday | 9am-7pm |
| Saturday | 9am-7pm |
| Sunday | Closed |