Welcome to Jumpstart Pashan
Jumpstart international preschool & learning center at Pashan is easily accessible to parents located at Pashan, Sus, Pashan-Sus Road and Bavdhan. The beauty of the center is it's large outdoor play area and well organised classrooms. The team here is very passionate about spreading goodness. They firmly believe in experiential learning and the use of latest technology.
Programs
We at Jumpstart International Preschool & Learning Center strive to make the crucial five years of children as enriching as possible.
Our preschools in Aundh, Karve Road, Kalyani Nagar, Bhosale Nagar, Mohammedwadi, Baner, Pashan & Nigdi work towards the holistic growth and development of children.
Preschool
[Regular program, 360° Program, 360° + Program]
Playgroup
Nursery
Jr. Kg.
Sr. Kg.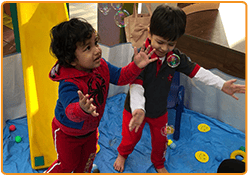 Learning Centre
Time:
9.00am -7.00pm
Age Group:
6 months to 10 years
After School Program
Time:
2.00pm -6.00pm
Age Group:
6 years to 8 years
Parent Toddler Program
Time:
11.30am -12.30pm
Age Group:
6 months to 2 years