Welcome to Jumpstart Nigdi
Jumpstart international preschool and learning center at Nigdi is easily accessible to parents located at Nigdi, Ravet, Tathawade, Pimpri, Chinchwad and Akurdi. It is located in the heart of Nigdi . The beauty of Jumpstart Nigdi is its uniquely well-designed classrooms and play area. The team is highly passionate and motivated to spread goodness to children using experiential learning and the latest technology.
Well designed classrooms
and interactive room
Programs
We at Jumpstart Internatinal Preschool & Learning Center strive to make the crucial five years of children as enriching as possible. Our preschools in Aundh, Karve Road, Kalyani Nagar, Bhosale Nagar, Mohammedwadi, Baner, Pashan & Nigdi work towards the holistic growth and development of children.
Preschool
[Regualr program, 360° Program, 360° + Program]
Playgroup
Nursery
Jr. Kg.
Sr. Kg.
Learning Centre
Time:
9.00am -7.00pm
Age Group:
6 months to 10 years
After School Program
Time:
2.00pm -6.00pm
Age Group:
6 years to 8 years
Parent Toddler Program
Time:
11.30am -12.30pm
Age Group:
6 months to 2 years
Goodness Partner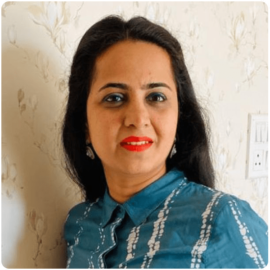 Namrata Jain
Jumpstart Nigdi aims at nurturing, moulding children with life skills. In Jumpstart Nigdi the Experiential learning which means "learning through reflection on doing". It takes place twice a week ,which leads to 60+ experiential events throughout the year. Children are born with an innate sense of curiosity.
Every year of a child's life is precious, but when it comes to development, the first five are the most critical. Jumpstart Nigdi also believes is strong parent partnership and the use of the latest technology.
We have effective teaching methods and curriculum designed by experts in field of eary childhood. A uniquely designed & age-appropriate curriculum executed by our highly motivated team makes Jumpstart the place to be for your child.
Jumpstart Nigdi has state of an art infrastructure with interactive classrooms, latest technology and outdoor play area.
Jumpstart International
Preschool & Learning center
Plot No.310, Near Bhel Chowk,
Sector No. 27,
Pradhikaran, Nigdi,
Pune, Maharashtra 411044
Call: 8530773999
Hours
| | |
| --- | --- |
| Monday | 9am-7pm |
| Tuesday | 9am-7pm |
| Wednesday | 9am-7pm |
| Thursday | 9am-7pm |
| Friday | 9am-7pm |
| Saturday | 9am-7pm |
| Sunday | Closed |