Why a Good Preschool infrastructure is important for your child?
Going to a good preschool onsets entry into the world of education for a child. It influences children's personality development and helps create a strong foundation for their future.
Moreover, a preschool should be able to encourage children to learn through a variety of interactive and creative activities. 
Therefore, it is imperative for parents to choose a preschool where the child can learn and grow in a conducive environment.
The infrastructure of a preschool or daycare centre plays a vital role in building such an atmosphere.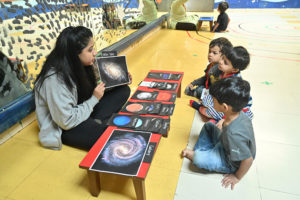 Factors to consider in a preschool's infrastructure:
Spacious Facility:
a. If the children are put into cramped areas during their growth years, it can hamper their overall development.
b. Hence, it is important that the preschool has ample space for your child to move, play as well as explore and experience new things. The design at Jumpstart assures same 
Make Believe:
a. Also called pretend play, is a form of symbolic play where children use objects, actions or ideas to represent other objects, actions, or ideas using their imaginations. This way of imaginative play promotes a child's development while helping them learn new dramatic play ideas, activities and games.
b. At Jumpstart we engage children through 60+ experiential events throughout the year to spur their imagination and encourage overall growth.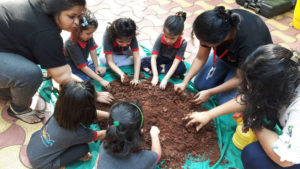 Outdoor Activities:
a. Physical activity and outdoor play are crucial for a child's comprehensive development. All our centres have a dedicated and spacious outdoor area for the children to play.
b. This area is equipped with state-of-the-art play equipment and infrastructure along with ensuring safety and security.
Child-friendly premises:
a. When children play and move around hurriedly, carefulness is the last thing on their mind. Due to which they can fall, bump into things and get hurt.
b. Therefore, it is necessary to ensure that the complete infrastructure is child-friendly and safe. At Jumpstart, the premises are tailor-made with cushioned carpets, soft edges, child-level tables, chairs, basins etc.
Interactive classrooms:
a. A classroom is one of the most important areas in a preschool because it is the area where a child is introduced to education. Therefore, it needs to be educational, safe, and forever engaging.
b. At Jumpstart, the well-lit, spacious and air-conditioned classrooms are a place where a child's imagination thrives and a lifetime of learning begins. The rooms are painted in bright colours with interactive and sensorial walls.
Jumpstart International Preschool with campuses at Aundh, Baner, Bhosale Nagar, Karve Road, Kalyani Nagar, Nigdi, Nyati County is one of the leading Preschool & daycare centres in Pune. 
You can also read:
6 Qualities of a Good Preschool
Importance of Early Childhood Education