Tips for Physical Development in Preschoolers
In today's day and time physical development is very crucial. However, with the advancement of technology and new gadgets available to kids, nuclear family set-up, both parents working or lack of patience to indulge kids in activities, causes increase in child obesity and diabetes related problems. The importance of activities for physical development needs to be understood and implemented. Physical exercise and play can help boost physical development in children.
More the children have an opportunity to practice their abilities and skills, the more coordinated and adept they will become.
Here are the few tips and trick to encourage children for physical development:
Encourage some sports:
Sports play an important part in a child's overall development, be it physical or intellectual. Sports helps us inculcate qualities like team play, sharing, flexibility, improving coordination, strengthening muscles and growing in speed and agility. Samar enjoys going for his Taekwondo classes and
Music and Dance:
Kids love music and dancing. Birthday parties without dance is incomplete. In our day-to-day activities too we can make them games like passing the parcel, fire on the mountain, dance and freeze etc.
Walking:
Take the kids for a walk with you in the garden. They come in contact with so many new experiences there. They enjoy the greenery, flowers and love running around, hopping, and jumping on small stones and obstacles.
Swimming or taking a beach vacation:
Kids love to play with water. At an early age the fear of water too is not there. They love splashing around with their friends or even with parents. Kicking and attacking the waves was lot of fun for Samar when we recently took a vacation in Goa. Even playing cricket or football on the beach is a lot of fun.
Pretend Games:
Kids love to enact or pretend to behave like other things that they see around them. Games like racing like an aeroplane or hop like a rabbit or walk like a penguin are favourite among them.
Encourage Play Dates:
Play dates for drawing, obstacle race, building blocks, helps their fine motor skills and develops their fingers and hands for other activities like catching a ball.
Kids are very easy to please and love playing in the outdoors. They enjoy the freedom to jump and hop around. We should let them play in the mud, silly games like pakada pakadi, running around chasing each other which we all played in childhood is lot of fun. Helps them grow, become more agile and strong and the coordination needed to play these games helps them concentrate better in other activities that they do. Enjoy these activities with your kids which will help them have an beautiful and memorable childhood along with their growth and it is sure to take you back to your childhood.
Our parent Pranjali Deshpande:
(Mother of Rihaan Agashe from the Playgroup class at Karve Road centre)
"The physical development of child is very crucial. Making child eat healthy food is very important when it comes to physical development. Many children don't like to eat healthy food when they are at home but they really enjoy eating school lunch box with their friends. Mom's can try giving healthy food in the lunch box, even if the preparation of lunch box needs waking up early. For overall physical development, how can one forget about physical exercise? Toddlers love to jump, run and have fun! Playing outside, making child run, jump, do exercise in open area should be encouraged. Even if he falls down while playing or doing physical activity, moms should not pay unnecessary attention – especially if the child is not badly hurt. I strongly feel that, feeling of being strong starts with this and which is very important for overall physical development!"
Our Parent Partner Gauri Khirid:
(Mother of Reyansh from Playgroup class at Ghole road centre)
Physical development simply refers to a child's ability to move, coordinate and control their body.
Children are packed with abundance of energy and hence it becomes imperative to channelize and streamline their energies according to their age for optimum physical development.
A child's growth is a continuous process, a gradual move from one stage of development to another and hence it is mainly categorized into 2 parts:
Importance of 'Physical development for infants and for toddlers':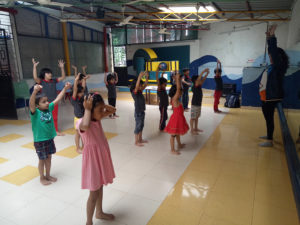 1) Physical development for infants–
a. In infants the motor skills are developed first and then the fundamental movement skills
b. It becomes important to perform certain activities that will help them further enhance their skills
c. So you can sit with them on the floor and let them crawl all over you. Put some obstacles like pillows in their way and let them cross it
d. Teach them to clap or to look at a moving object. As their motor skills are enhanced you will observe increased perfection in their fundamental movements
e. They will now use their skills to grasp things in their hands, balance themselves, sit upright, roll over, crawl and eventually stand on their feet
2) Physical development for toddlers–
a. To direct the high energy levels of this age group in the right direction is the most challenging and tiring job for the parents
b. To simplify this phase you can try many activities that are simple and inexpensive
c. Provide a play environment that encourages lots of time and space for energetic and noisy play. It is important for children to shout and scream to discharge their energies while playing
d. Set aside family time for a hike, walk, or visit to a nearby park. Play games that involve running, hopping, throwing and catching
e. Discourage inactivity by limiting TV viewing, use of cell phones and computer games to less than an hour a day at least
f. Let them dance to music, help you wash your car, bike or a cycle
g. Encourage water play in your backyard or a terrace and let them splash water and play some water games
As parents we must understand that every child has a different level of speeds and time to develop. If your child is not ready for some of these activities it is essential for the parents to be patient because every child is unique all they need is love ,appreciation, and encouragement.
You can also read:
Pretend-play Ideas & Activities for Children to Play, Learn & Grow
How Pretend-play Spurs Learning, Growth & Development in Children?