Sing, Dance & Exercise with your Child
Jumpstart wants parents to Sing, Dance & Exercise with your Child keep reading to know why…
As humans we have our five senses that help us in managing our day to day life. Out of these five senses we have the sense of sight, sense of hearing and sense of taste which is the most active. As children are born and growing they discover their five senses gradually and from day to day activities.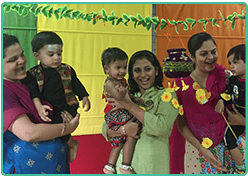 The activation and enhancing of these senses is very important. These five senses have just awakened and are at most primal and most curious stage. They want to touch, feel, see, hear, and taste everything they come across. This hunger to know everything needs to be fulfilled by parents.
Sing dance and exercise with your child is one such activity which will help you to enhance the five senses of your child as well as bring you much closer to your child. When you do this activity with your child you will feel uninhibited and bond more closely with your child as well as yourself.
When you turn into a mother or a father you have no inhibitions singing to your child to put him to sleep, to cuddle him or to soothe him when in pain. This is because you want to be the closest comfort to your child. When you take part in this activity when your child enters school you help the child in a big way. The feeling of being involved in your child's world as well as a friendship bond is planted at early stages.
When you participate in this activity you shed your fears and inhibitions for your child, which leads to setting a very positive example for your child. Your confidence will give birth to the child's confidence. Your child will learn to face life happily and cheerfully. The virtues of courage and honesty will develop in your child. This will teach your child to live and enjoy every moment of life and make him/her healthier mentally and physically. Do not back out of such opportunities for they come once in your and your child's life. Also, click a lot of pictures of these moments to cherish them later and save it forever. Enjoy your time with your child!
You can also read: