Pretend Play

Our energetic educator, Ms. Rakhi Talim, has thrown light on the concept of Pretend Play.
Pretend Play has gained a lot of importance in recent times.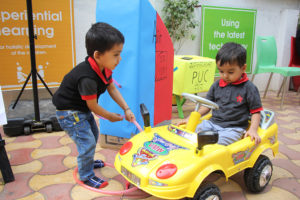 Old day of play:
In the good old days, children used to Pretend Play as a teacher, a doctor, a mother, a policeman, a fireman and so on. It was just an act of play and a routine part of childhood. There were no electronic and digital gadgets or no information overload to interrupt a child's creative ability to play, as is the case today.
Today's play:
Today Pretend Play has evolved as children are deprived of free unmonitored play time. Children are tied down to a disciplined timeline and exposed to supervised activities marring their creative expressions when they play.
An overdose of screen time is another reason why children today are fed with ready information, making them less likely to take efforts, think and Pretend Play. Digitization has also made children introverts and they need to be taught the art of making friends
A change in today's Preschool:
One solution to this situation is the Pretend Plays that are now encouraged in Pre schools as they also aid in academic skill development of children.
It helps in developing cognitive and social skills in a child which further helps them in learning complex concepts. It also helps them in building their confidence when they discover that they can be anything just by pretending.
This is also why there is a considerable focus on Pretend Plays in preschools. The thought is to try and create conducive environment. In schools, children learn the art of making friends along with discovering newer ideas of pretend plays. The educators also hearten a child to play effectively with other children.
We must bring back the good old playtime this will help children build their imaginative, cognitive, social and emotional skills.