Preparing Your Child for the First Step Towards Preschool – Part 2
A little request. If you've not read our previous article – Preparing Your Child for the First Step Towards Preschool Part 1, read it first. If you've read this before, continue reading…
In continuation of our previous write-up, here are a few more tips that you can implement to prepare your child for their first step towards education and learning with preschool:
Make them Self-dependent:
While sending them to preschool, one of the most important things to ensure is that your children are prepared to handle themselves. Especially when you are not along with them. Make them learn some basic self-help skills such as managing their belongings like – lunchbox, books, backpack, etc. Also, make them accustomed to potty training, feeding themselves and a few simple writing and crafting skills. Also, some motor skills are expected to be in your child, when he/she will start going to the preschool. However, their motor and movement skill will develop further naturally once as they start playing with toys, paper, play-dough, and other small objects.
Getting into a Routine:
It is crucial for both parent and the child to get used to a daily routine at least a week or two before the preschool starts. When the children are familiar to a regular schedule at home, the transition to an organized school-setting will only become smoother. This will also make them understand the concepts of time, sequence, and order. Moreover, you can make your life make life easier and ensuring stress-free by implementing fixed routines for morning and bedtime. By doing so you will be able to avoid dreadful situations like the chaos of getting your child dressed and ready in time.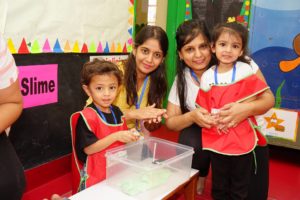 Be Cheerful and Positive Yourself:
This is especially important because kids pick up on the reactions of trusted adults, especially parents. So, make sure that you stay cheerful and positive when the first day of preschool finally arrives. While sending or dropping your child to the preschool, offer a hug and keep the goodbye short. However, ensure that your child is comfortable before you leave him/her at the preschool. This can be done by developing a goodbye ritual beforehand. Something as simple as a kiss and hug can make your child feel special and raise the spirits.
When the D-day Arrives:
The impact of the thought and possibility of separation varies from child to child. While some get accustomed to it quite easily, others need extra support and time. Reassure your child that he/she will be safe at the preschool and that you will come back for them very soon.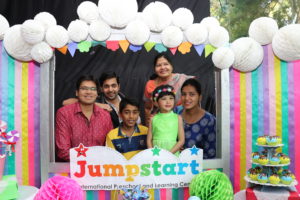 Trust Us:
We understand that as parents, it can be difficult for you to let go off your child to an unfamiliar place with unknown people, but you can trust the staff, and teachers at Jumpstart to take care of the rest. With our expertise and years of experience, we have helped a number of families make the shift to preschool.
At Jumpstart, we ensure that this transition is easy for your child.
Happy Parenting!!!
You can also read:
Importance of Early Childhood Education