Preparing Your Child for the First Step Towards Preschool – Part 1
Here we share an amazing thought over Preparing your child for Preschool!
By no chance, your child will be in a welcoming mood for the first day of preschool. And you must be ready for that. In fact, their unwillingness, nervousness, and tears are nothing but natural and actually necessary to some extent.
So, what should you do make your child ready for this situation? Don't worry we are here to help, just read on….
Sending your child to a Preschool can be a huge step for any parent. At the same time, it is very difficult for the child to leave the comfort of his/her home for the first time and venture into the big world. In fact, this might seem like a daunting task for both parent and child.
Although, it is hardly possible to tell whether or not and exactly when your child is ready for preschool, but as a parent, the best you can do for your child is to prepare him/her to make the transition easier.
Following are the steps that you can take to make your child ready for preschool:
Communication is the Key:
Talk to your daughter/son about what preschool is and what he/she will be doing there. But, be careful while doing so, do not overwhelm your children with excessive information. Try and talk mostly about the positive aspects, don't instil fear about anything. For the best, have casual and upbeat conversations about the fun they will be having with their new friends. The idea is to help your child understand what to expect in a preschool and give them something to look forward to.
Give Them the Vibe:
As soon as your child has been enrolled in the preschool, take them on a tour of the premises. In fact, at Jumpstart we insist the parents do so, as well as we ensure that they meet the teachers and caregivers in advance. This helps the child get to know the environment and makes them comfortable and confident.
Organize A Play Date:
Along with the above point, if you happen to know other parents whose children will be in your child's preschool class, you can organize a play date with them. This is a great way to save your child from the feeling of strangeness and isolation that he/she might face on the first day of preschool. If the child already knows his new friends, teachers, etc. he/she will be more than happy to go to the preschool.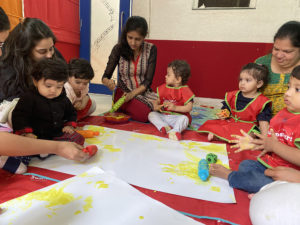 Teach Social Skills:
Socializing is something that your child will only acquire gradually with time. However, you can always point them in the right direction. And one of the best ways to teach your child some basic social skills is through 'pretend play'. Start with acting out going to school, meeting new people, greeting each other, playing with friends and teachers, etc. also, try reversing the roles, for instance sometimes let your child become the teacher or the parent and you be the child. This will help inculcate the feeling in your child that preschool is a fun and exciting place.  Also, it will reduce their anxiety and fear of the new place.
Look for all these availabilities when you go on a search of a best preschool for your toddler, as these are the best moments your child can live. Its your responsibility as a parent to gift this to your child 🙂
Happy Parenting!!!
You can also read:
Preparing Your Child for the First Step Towards Preschool – Part 1
The Enduring Importance Of Parental Involvement In Early Years Of Your Children