Raising Children Independently
Our Educator shares her thoughts on the value of raising children Independently in today's generation. In today's world, When we interact with any parent and you will come to know about their busy schedule, their stressed lives and the struggle they face to give time to their children, which is the sad reality of today's parents.
The modern reality of parenting:
Today whenever parents get time, they try and utilize it with their children. They see to it all their hard work pays off and thus gift their children with lots of toys, electronic gadgets & lots of love.Eventually, experiencing such a royal treatment, children might take up the advantage of it and might always remain dependent on their parents for every little thing which is what we really want to cut down.
We as parents or educators should always give priority to making our children independent.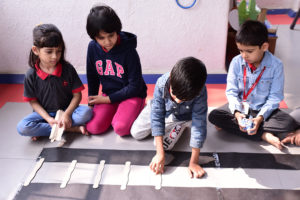 The value of Independence:
a. Independence is about learning to do things for oneself, which includes making decisions and taking responsibilities
b. These are hugely important skills for children to learn to cope with in adulthood. As and when the independence grows, the child becomes more confident
c. As they master new skills or take on some responsibility, they begin to see themselves as being capable. This boosts their confidence level and they are prepared for new life challenges
d. Many everyday tasks such as hanging clothes, pouring out remaining water from the bottle and tidying away toys promote physical development as well as life skills
e. These activities lay the foundation for later skills such as writing and drawing. Letting your child play with any of his favorite toy or giving him the opportunity to choose what to play with allows them to explore and learn independently

According to a study:
Parents of successful children make their children do chores, teach them social skills, have high expectations from their children, have healthy relationship with each other and value efforts over avoiding failure.
However, it is very important to give them 'time'. Spending time with children and having a healthy relationship with them is a must for all parents than buying expensive toys and gifts.
You can also read:
Lets make our children independent