Welcome to Jumpstart Kalyani Nagar
Jumpstart international preschool and learning center at Kalyani Nagar is easily accessible to parents located in Kalyani Nagar, Koregaon Park, Viman Nagar, Mundhwa, Yerawada and Wadgaon Sheri.
It is located at a calm & and peaceful location and has a spacious and well designed infrastructure.
The team is highly passionate and motivated to spread goodness to children using experiential learning and latest technology.
Programs
We at Jumpstart International Preschool & Learning Center strive to make the crucial five years of children as enriching as possible.
Our preschools in Aundh, Karve Road, Kalyani Nagar, Bhosale Nagar, Mohammedwadi, Baner, Pashan & Nigdi work towards the holistic growth and development of children.
Preschool
[Regular program, 360° Program, 360° + Program]
Playgroup
Nursery
Jr. Kg.
Sr. Kg.
Learning Centre
Time:
9.00am -7.00pm
Age Group:
6 months to 10 years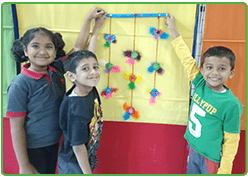 After School Program
Time:
2.00pm -6.00pm
Age Group:
6 years to 8 years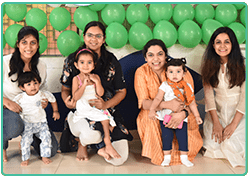 Parent Toddler Program
Time:
11.30am -12.30pm
Age Group:
6 months to 2 years
At our centre
Children are born ready to learn, and have many skills to learn over the years. Every year of a child's life is precious, but when it comes to development, the first five are the most important. This is when a child becomes the person they are going to be.
It is when they learn appropriate behaviour, boundaries, empathy and many other important social skills that will remain with them for life.
It is a time of rapid cognitive, linguistic, social, emotional and motor development.
At Jumpstart, we start as early as 6 months with our Learning Centre and Parent Toddler program. Children enter preschool at the age of two upto the age of 6. We believe in partnering with the parents in the form of volunteers wherein they can visit us at school and spend time with our children. Committee visits like being part of the food, infrastructure and classrooms to ensure transparency and most importantly our quarterly face to face meetings wherein the child's work is showcased with photo and video documentation. A discussion is initiated as to how both the parent and the educator can partner together to help the child evolve in specific laid down areas. Using the latest technology to the benefit of the children is one of the primary focus.
Jumpstart International
Preschool & Learning center
Graficon Vila, Plot No.24
In the lane, next to Gyaan Adab,
Kalyani Nagar, Pune, Maharashtra 411014
Call: 9881110066
Hours
| | |
| --- | --- |
| Monday | 9am-7pm |
| Tuesday | 9am-7pm |
| Wednesday | 9am-7pm |
| Thursday | 9am-7pm |
| Friday | 9am-7pm |
| Saturday | 9am-7pm |
| Sunday | Closed |