Welcome to Jumpstart Bhosale Nagar
Jumpstart international preschool and learning center at Bhosale Nagar is located in the busiest area yet away from the city traffic and chaos. It is easily accessible to parents located at Model colony, Shivaji Nagar, University road, Range hills, Khadki and New Sanghvi. The center is beautifully designed and is safe, secure and hygienic. The team is highly passionate and motivated to spread goodness to children using experiential learning and the latest technology.
Big well-spaced and
well designed classrooms
Programs
We at Jumpstart International Preschool & Learning Center strive to make the crucial five years of children as enriching as possible. Our preschools in Aundh, Karve Road, Kalyani Nagar, Bhosale Nagar, Mohammedwadi, Baner, Pashan & Nigdi work towards the holistic growth and development of children.
Preschool
[Regular program, 360° Program, 360° + Program]
Playgroup
Nursery
Jr. Kg.
Sr. Kg.
Learning Centre
Time:
9.00am -7.00pm
Age Group:
6 months to 10 years
After School Program
Time:
2.00pm -6.00pm
Age Group:
6 years to 8 years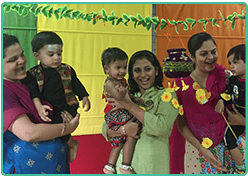 Parent Toddler Program
Time:
11.30am -12.30pm
Age Group:
6 months to 2 years
Goodness Partner
Dipti Chimbalkar
At Jumpstart Bhosale Nagar, we provide an environment that is very child-friendly with a focus on their individual growth. We aim at the holistic development of a child's social, emotional, physical and cognitive needs in order to build a solid lifelong foundation. Every developmental aspect starts taking shape from the time a child is welcomed into this world and continues taking shape for a lifetime.
The emphasis is given to experiential learning than formal learning. The school believes in inspiring students to explore, enhance and co-relate it with the environment.
We are very proud of the fact that we constantly keep our educators updated through timely training. Our educators are highly motivated and experienced which reflects in providing the highest quality education and childcare in a safe, respectful and inclusive environment which builds a foundation for lifelong learning.
Jumpstart International
Preschool & Learning center
Mantri Kishor Park, Yog, Bunglow No.2,
Next to Bramha Memories, Bhosale Nagar,
Pune, Maharashtra 411007
Call: 7410040484
Hours
| | |
| --- | --- |
| Monday | 9am-7pm |
| Tuesday | 9am-7pm |
| Wednesday | 9am-7pm |
| Thursday | 9am-7pm |
| Friday | 9am-7pm |
| Saturday | 9am-7pm |
| Sunday | Closed |